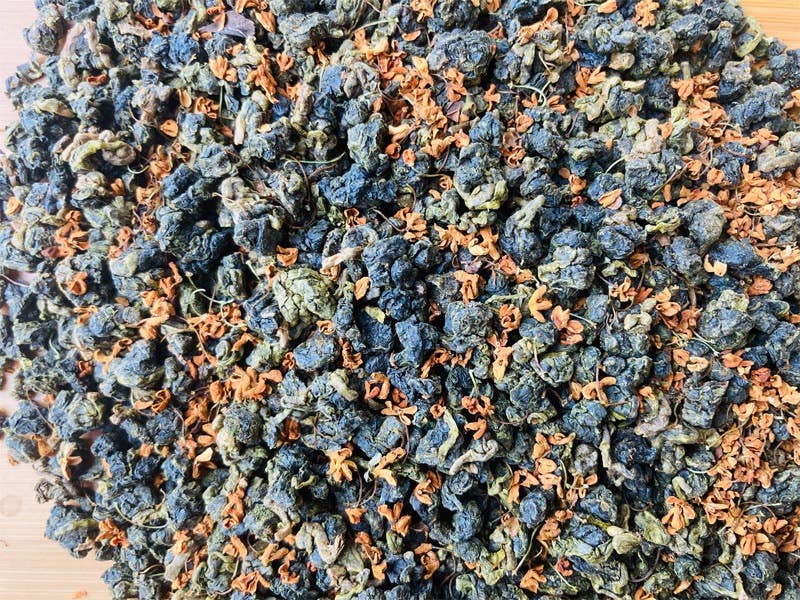 Osmanthus Oolong (Wild Tree blend Fall Harvest!)
Save

Liquid error (snippets/product-badge line 32): Computation results in '-Infinity'

%
Flavor Profile: Osmanthus is the national flower of China and a most fragrant, Autumn blooming botanical. Its sweet, bright fragrance and rich, floral, stone-fruity flavor harmonizes exquisitely with the buttery orchid flavor palate of the green oolong. The result; an ancient tea blend that brightens up the cold, dark days of winter and dove-tails with the warmer, sunnier days of the year. Blends well with Formula No.0: Deep Calm and Formula No.20: Ultra Antiviral. (CAFFEINATED)

Steeping Guidelines: 3g (1T) | 8oz | 180-200 F | 1-2 min | Steep x3+

Origin: Lincang, Yunnan Province, China 
Farming & Processing Style: These days most Osmanthus on the market (like so much Jasmine tea) is contaminated with pesticides, herbicides and even sulphur, dyes and perfumes. It is also often high heat processed for fast drying, which depletes the fragrance and flavor.

But we have an extra special direct source that biodynamically tends wild trees, hand harvests the tiny blossoms and dries them organically with no added fragrances or coloring. Just pure, wild golden petals. This wild/biodynamic style allows for the strongest, most potent plants, nourished by their most natural environment!

Like all our teas and herbs, this oolong is organically grown, never having seen a chemical in its life. It is the same top caliber cultivar used for making our current Golden Jade, a Dong Ding, traditionally grown in Nantou, Taiwan. However the oolong for this blend is unique because it is instead grown in a small garden at an even higher altitude on the mountainous boarder of Yunnan and Guangxi, China. Up there the leaves endure serious fronts, which actually serve to deepen the richness of the tea's flavor.

Botanical Names: Camellia sinensis | Osmanthus Heterophyllus


Herbal Actions: Antiviral, Adaptogen companion (enhances adaptogenic effects), Antioxidant, Anit-inflammatory and more...

Camellia Teas, particularly green, less oxidized teas, are some of the most powerful 'adaptogen companion" herbs. These are plant medicines that when taken together with adaptogenic herbs, enhance the stress-hormone-balancing, detoxifying, antioxidant, anti-inflammatory, and immune-boosting health benefits.
1.5 oz