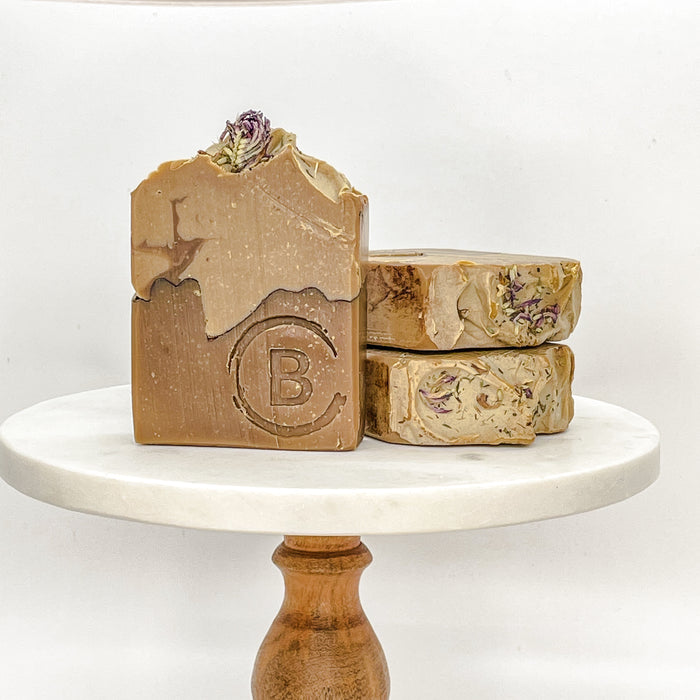 Babassu Oil & Pumpkin Purée Artisan Soap - Limited
Our handcraft artisan soap features Organic Babassu Oil and Pumpkin Purée.  
Babassu is packed with fatty acids, which is known to help support the membranes between skin cells, reducing the risk of sagging. Fatty acids also help skin cells retain balanced moisture levels.
Pumpkin is packed with fruit enzymes and alpha hydroxy acids (AHAs). These natural and effective exfoliators for your skin help to remove the dead skin cells from the surface, revealing a youthful glow
Ingredients: *Babassu Oil, Olive Oil, Distilled Water, Cocoa Butter, Sunflower Oil, Sodium Hydroxide, Sodium Lactate, *Pumpkin Puree, Fragrance, Mica, Dried Botanicals  * Organic or Wild-Crafted  
5oz
Available in 4 scent blends:
Smashing Pumpkin - A spicy mix of cinnamon, pumpkin, orange peel, honey. But there are also unique notes like blackberry, sandalwood, tobacco, and patchouli.
Ginger Orchid - A sultry floral mix of ginger, black pepper, ylang ylang, gardenia, jasmine, orchid, and clove. It finishes with amber, patchouli, sandalwood, vanilla, and musk.
Bay Leaf & Bergamot - A fresh mix of bay leaf, fir needle, cedarwood, bergamot, and tobacco.
Twilight Tea - A sweet mix of chamomile, bergamot, cocoa, cinnamon, rose, amber, moss, musk, and sandalwood.