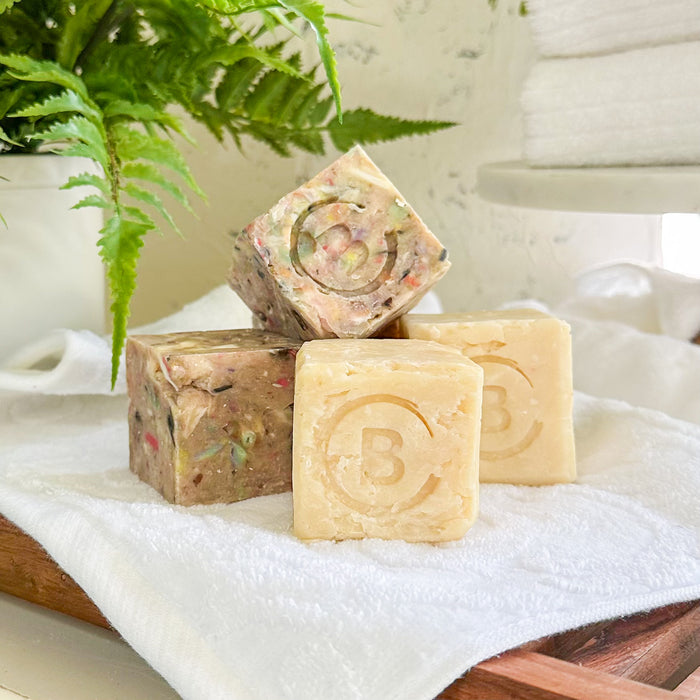 Triple Milled Shea Butter & Coconut Cream Soap Blocks
This is our Shea Butter and Coconut Cream soap that has been triple milled and cut into little blocks. We used this handy shape and size in the workshop, laundry room, out in the garden (yes I sometimes forget them outside), for the dogs, just about anywhere we need a good soap but don't necessarily need it to look pretty. 
Of course it's our blend of skin loving oils & butters full of Vitamins A, C, D & E that creates a beautiful later and super moisturizing.  Of course, with use on a regular basis, your skin could become softer and improve in appearance and texture. 
Ingredients: Saponified *Coconut Oil, *Olive Oil, *Shea Butter, Distilled Water, Sodium Hydroxied, *Coconut Cream, *Cocoa Butter, *Sunflower Oil, Castor Oil, Essential Oils, Mica, Dried Botanicals
* Organic or Wildcrafted
Net weight 4.5 oz
Due to the nature of our handmade soaps, your bar will have different patterns or variance in color.  Bars are hand cut and will continue to dry with time, weight will change.  Store your soap in a dry area when not in use. Discontinue use if irritations occurs.